Playoff Hockey: It's Why They Play The Game
You may be one of the thousands of people like myself who have a completely broken NHL Stanley Cup Playoff bracket, and I'm using broken kindly.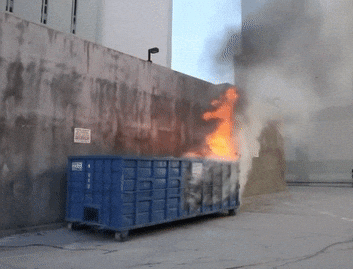 A dumpster fire may be more appropriate.
We've watched in the NHL so far this spring both #1 seeds lose to the #8 seeds (or your wildcards). We've watched many "David's" take down "Goliath's" this year. There is no perfect bracket anymore.
So why does this matter?
It's because during playoff hockey, anything and I mean anything can happen no matter what level.
Right now, we have both the NAHL's Robertson Cup playoffs going on as well as the USHL's Clark up playoffs.
So far, we haven't seen any upsets in the NAHL outside of Lone Star Brahams getting knocked out by the Shreveport Mudbugs (they finished 4 points apart in the regular season. In the USHL, we haven't had an upset yet either, but it's still somewhat early.
But as we've seen even at the highest level, anything is possible. The bottom seeded team who just inched into the playoff could easily catch fire and knock off the top dog. We can see the top seeded team get too complacent and just lose out due to not being mentally prepared. Going up in the first game has a huge mental advantage while it has a big mental disadvantage for the other team (gripping your sticks a little tight eh?). You literally cannot take a shift or a second off because you want to limit opportunities and chances, and you sure has hell don't want to be on the ice when the opposition takes advantage of an opportunity.
But as a fan, playoffs are the best time of year for hockey. You can toss out the regular season stats and standings. Everybody is back to zero or equal. This is everything you've spent the last 6-7 months working towards. All those countless practices, video sessions, and any extra things you've done throughout the season to prepare yourself. Nobody cares anymore if you won 62 games or 34 games. It's about the games that are ahead of you in the series your about to play.
My favorite hockey moment growing up was taking part in the HS JV state playoffs as a freshman. We were ranked in the middle teens, expected to probably lose in the 2nd round in a one and done tournament. But we didn't. We took down every team, including the #1 JV team in state in the "Frozen Four" to play in the State Finals. Yeah, we got crushed in the championship game (we had a team full of fresh and sophomores losing to a team full of upper class men) but that entire run was amazing, knocking off teams who felt we almost had no business playing against. Why did this happen? Our team, especially our goalie, got hot at the right time and that's all it took. Sure games were extremely close, but they were exhilarating and a blast to play in. We went and proved to everybody that we weren't just some low seeded team that got lucky in one game. We went all the way.
We will continue to see many of upsets and great playoff series in general, and that's the nature and beauty of the game.
Every game matters.
Every period matters.
Every shift matters.
Anything can happen.
And that is why we play the game.
-TDC